By E-Perform | NUTRITION | May 31, 2022
Pre Football Meal: The Ultimate Guide (2022)
Have you ever wondered what an elite football player eats and drinks before a big game?


Do you want to maximise your football performance simply by eating the right thing before your match?… Well we have you covered here.


In this article, we will look into what the science tells us about the pre football meal, fueling for football and giving you a super simple plan of what and when to eat to maximise your performance before your big game.


What you will learn from this article;

How the pre match meal has evolved over time
The purpose of the pre football meal is
Exactly How much you should be eating in your pre football meal
How to create your perfect plate
The type of foods you should be eating before a football game
Common mistakes with the pre match meal
When you should be eating your pre football meal


We will give you an insight into a professional footballer's pre football meal, based on our experience working with top international and premier league players.


This is an extension from our most recent blog on the footballer's diet – if you haven't already, take a read before continuing here to get the most out of this article.


At the bottom of this article, you will find a link to download our FREE 7-day meal plan to maximise your football performance, along with links to our other recent blogs on supplements and the importance of body composition for football.

How has the pre football meal evolved over time?

You don't have to travel too far back to see how nutrition has changed dramatically in football.


When Arsène Wenger arrived at Arsenal back in 1996, he banned the team from eating chocolate.


This sparked outrage from the players, shouting "we want our Mars bars!" at the back of the bus before a fixture against Blackburn away.


Where science has developed, teams now understand the importance of nutrition for football and why a Mars bar is not the best food choice to eat before you step on the pitch.


Every premiership team now has dedicated nutrition staff and chefs to specifically tailor meals to each player's requirements.


We will walk you through the type of information professional players receive and what they are now encouraged to eat to ensure they are at peak performance for the game.


What should you eat in a pre football meal to maximise performance on the pitch?

The purpose of the pre football meal


The pre-match meal is arguably the most important meal of the week for a footballer.


It is your last opportunity to fuel up before the demanding 90+ minutes on the pitch. So, what does the science tell us about how you should fuel before kick-off?


Maximising glycogen stores

During match play, carbohydrates are king.


Carbohydrates elevate muscle and liver glycogen stores, which can be used for energy during the game.


There is extensive evidence showing that high carbohydrate intakes before match play can delay fatigue, improve performance during intermittent high-intensity exercise as well improve technical performance such as Improved dribbling and Improved shot speed.


For this reason maximising glycogen stores i.e filling up your energy tank is the most important nutritional thing you can do to help your performance before a big game.
How much should I eat in my pre football meal?

Delving a little deeper, in line with the research we recommend players to consume 1-3g of carbohydrates per kg of body mass in the 3-4 hours before kick-off in their pre football meal.


Below is an easy to use guide to help you figure out how many carbohydrates you should eat during your pre football meal, all you need to do is weigh yourself in kilograms and you can calculate exactly how many grams you individually need.


We will take you through how much one portion of common carbohydrate options contain below, so you can then figure out the types and amounts of each food to make your own individual bespoke fueling plan.


55kg football player = 55 – 165g of carbohydrates
60kg football player = 60 – 180g of carbohydrates
65kg football player = 65 – 195g of carbohydrates
70kg football player = 70 – 210g of carbohydrates
75kg football player = 75 – 225g of carbohydrates
80kg football player = 80 – 240g of carbohydrates
85kg football player = 85 – 255g of carbohydrates
90kg football player = 90 – 270g of carbohydrates


As an example, if you are a 70 kg football player; that would mean consuming 70-210g of carbohydrates in your pre-match meal.


Here's a step-by-step visual guide to help you construct your own food plate:


Creating your perfect pre football meal plate

Now you know how much in total you need to eat in the 24 hours leading into the game you know need to know what types of foods to put on your plate.


So how do you start looking to create your perfect plate before the big game to maximise fueling & help your football performance.


Simply we would advise you to choose 3 portions of carbohydrates, pick one portion of protein and add one portion of antioxidants to your plate.


Using this simple idea you will get very close to creating the perfect plate.


Below is a nice easy printable image you can save to your phone to help remind you what to eat on game day.



To take this to the next level  download our FREE 7 best football recipes to check out some of our favourite pre-match meals here


The ultimate pre football meal

Now you understand how much you need to eat, when to eat it & how to build your plate.


We want to give you a really clean simple visual pre football meal infographic to show you exactly what your plate should look like so you can build your ultimate pre football meal for every match.


Here is a summary of everything we have discussed so far in an excellent graphic to help you build your perfect pre match plate!


Feel free to share this article / image with your teammates so you are all eating brilliantly before the game to get an instant edge on your competition.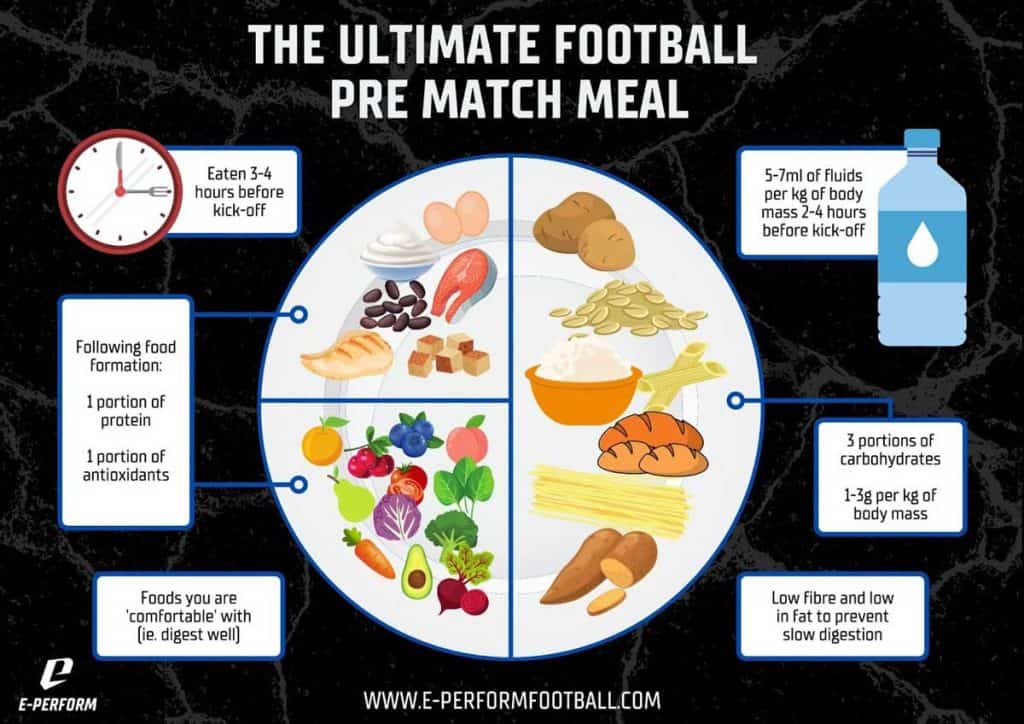 How to fuel like a pro on game day: The match fueling plan

Timing is everything.


With nutrition timing, total and type are the 3 T's to make sure you are fueling correctly.


We have covered total amount and the type of foods to eat. Now we want to make it super simple and clear on the timing of your nutrition leading into match day.


Below we have put together another infographic to explain all and bring all these ideas to life into an easy and useable example.


The example below walks you through examples of;

When to eat
What to eat
The amount to eat.
We have used a 70kg player as the example and also used a 3PM KO as the example.


Please download and share the infographic on your social media or to your friends to make sure all your team mates are eating like pro's before your big games!


Please leave a comment below if you need anymore help or advice.



Do it like the pro's – Topping up with carbohydrates before you step on the pitch to maximise your performance

Whilst your last meal should be eaten 3-4 hours before kick-off, we recommend 'topping up' with a carbohydrate snack after your warmup and before the start of the game which you will see in our fueling plan above.


This can help fill a hole for some players who might be a bit peckish without leaving their stomach full, which could cause discomfort (Eg. bloating, nausea).


Below are some examples of high-carbohydrate snacks that we recommend after the warm-up and before the start of the game. Make sure you trial these in training to minimise the risk of any discomfort.


This is where you may see your favourite professional player consuming an energy gel before/during/after the team warm up on game day. This is an excellent time to take on those final carbohydrates.


Don't forget though – this is "topping up" it is not your main fueling strategy.


Your fueling for the game happens throughout the 24 hours leading up to the game, not just in your pre football meal or immediately before the game in the form of a gel.



Fuelling to feel good in your pre football meal

In our professional experience, ensuring that players 'feel good' is as important a goal as ensuring players are fully fuelled prior to a match.


Different players have different food preferences based on taste and how well they digest a particular food.


For some, certain carbohydrates can leave them feeling bloated or sick – far from ideal before you start sprinting around the pitch!


Ultimately, if you eat enough rice to fuel you for a game, but it makes you heavy and slow, don't eat the rice!


Instead, find an alternative source of carbohydrates that you can digest that leaves you feeling great (simply pick from the visual guide above).


Common mistakes with a footballers pre football meal

Foods high in fat and fibre could be the root cause of any stomach issues since these can slow digestion and leave you entering a game with a full stomach.


Trial different food options before training sessions so you know what works for you to ensure you can plan your meal(s) for match day.


Pre-game nerves/excitement can limit some players' ability to consume food.


If this applies to you, liquid carbohydrate options such as smoothies or fruit-based drinks may be a more practical choice to ingest before a game to prevent you from under-fuelling.



Hydration and the pre football match meal 


Fluids can be considered part of your pre-match meal.


Staying hydrated ensures you can maintain optimal performance on the pitch. Just like being under fuelled, inadequate fluid intake can lead to dehydration, which can dramatically impair performance.


We recommend that players consume 5-7ml per kg of body mass of fluid in the 2-4 hours before kick-off. A practical way to monitor your hydration is to assess your urine colour.


Aim for consistent pale-yellow colour urine on match day to ensure you are not starting the game in a dehydrated state.



Pre football meal Conclusion and useful links

We hope you have enjoyed this article and learnt everything you need to know about the pre football meal.


If you do, please share, like and comment with all of your team mates to make sure they are eating like a pro before all your games too!


We also really appreciate the tagging / liking and sharing on our social channels as it helps us grow and bring even more value to you!


Hopefully we also made it clear that the 24 hours before your game is actually more important that the pre match meal.


If you want to find out exactly how to fuel like the pro's in the 24 hours leading up to the game, please download our 7 day free football nutrition plan here.


This is an extension from our most recent blog on the footballer's diet – if you haven't already, take a read before continuing here to get the most out of this article.


Download your FREE 7-day meal plan to maximise your football performance RIGHT NOW!


We have put together an example of the type of meals professional players we work with might consume in a typical match week – Download it here.


Lacking inspiration with what to cook? We've got you covered with our FREE 7 best football recipes. Pair this with the 7-day meal plan to start planning to make a proper impact and improve your nutrition.


We hope you find value in this article and our FREE 7-day meal plan to maximise your football performance – if you do, please share, like and comment with all of your team mates.