By Ben Young | FITNESS | August 1, 2022
Footballers Workout: The Best Free Footballers Workout 2022 (PDF)
Behind the scenes and away from the 70,000 sold-out stadiums, footballers are honing their skills and working on their fitness and conditioning, to try and get ahead of their competition and give them an advantage in their gruelling schedules.
At E-perform we want to give you a sample of the type of programs we have given the professional players we have worked with over the years to help them perform at their best week after week.


Here is the ultimate footballers workout.


At the bottom of this article, you will find a link to download our free footballers workout. It is in PDF form so you can download and view it on your phone or desktop.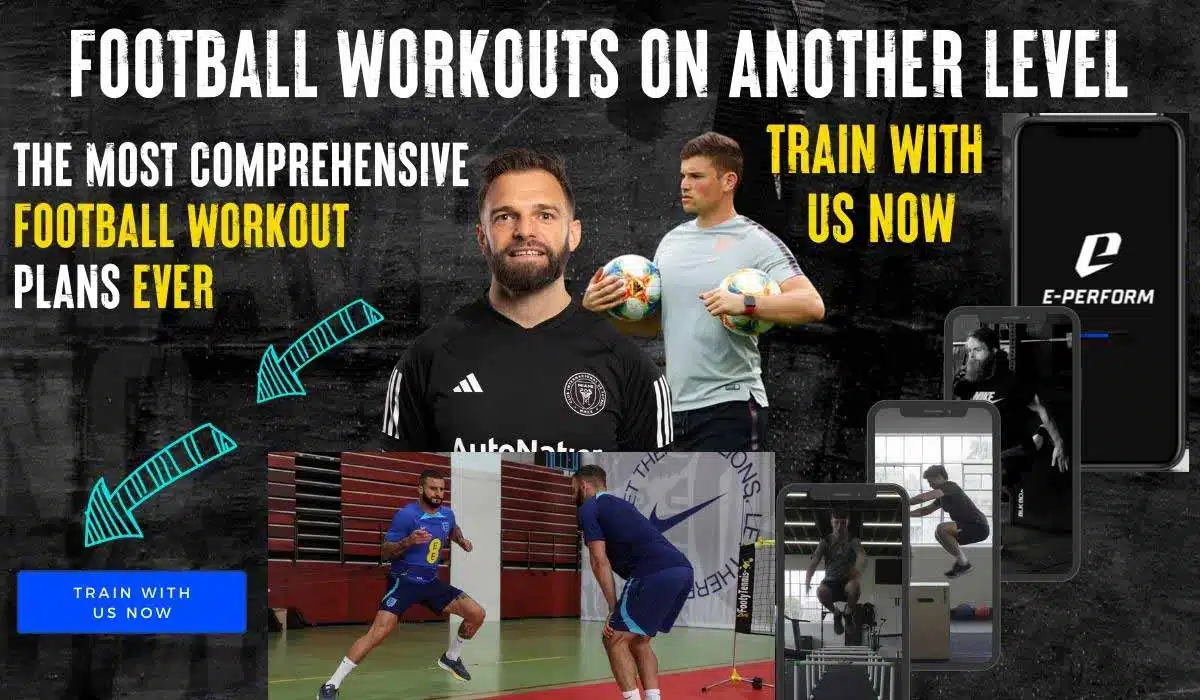 We have included 7 free footballers workouts including 3 Gym based footballer programs & 4 fitness sessions, both treadmill and pitched-based.


We hope you love and find value in this article and in our FREE footballers workout PDF – if you do, please share, like or comment below with any comments or questions.


Contents
What makes up a professional footballers workout?

A professional football players workout is typically made up of a number of important sections which are addressing different components of the game.


At E-Perform we like to look at the physical demands of the game as a way of telling us what to work on and when. As Professional Soccer scientific research suggests, professional footballers workouts are specific and intense.


Keep reading to get an example.
Before just cracking on and completing the program we highly recommend reading each section below to understand what and why you are working on the specific attributes. This will help you understand and apply yourself better to each exercise and workout.
We have aligned our programming to 6 fundamental pillars of performance.
In this article and guide, we will focus on the gym-based portions of the workout. You will quickly notice we recommend full-body workout for soccer players which will maximise your performance vs isolated workouts.
Click here to see our article based more on the fitness part of the game & get FREE workouts to try to improve your football fitness today!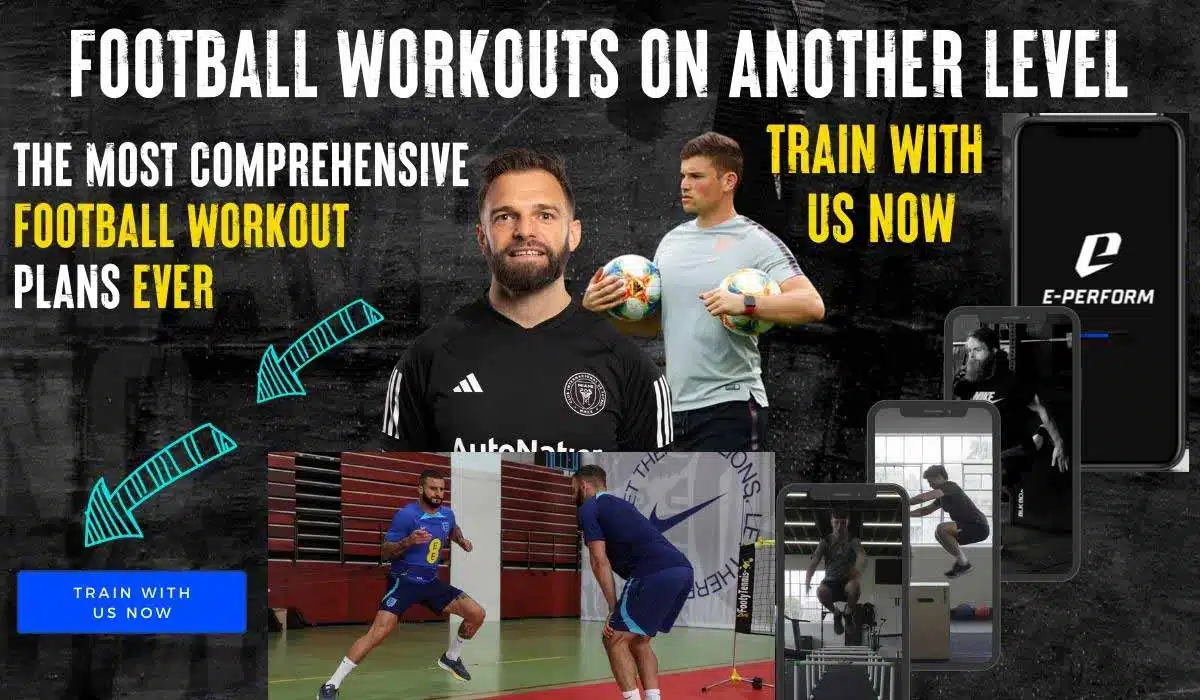 Download your FREE Ultimate footballers workout RIGHT NOW!


Deceleration Strength within a footballers workout
Slamming on your breaks when pressing or going into a 1v1 situation causes lengthening of your muscles under a lot of force. These are known as eccentric contractions.
Eccentric training is therefore fundamental to deceleration & change of directions, critical to Football.


Getting strong in these actions is the aim of the game here.


In this area of your training expect to focus on the downward phase of exercises & 'braking / slowing the movement' throughout the exercise at varying speeds, slow & heavy or fast and light.


Example deceleration strength session


If you would like to understand more about why strength is important in football check out the link as we have explained all in our article dedicated to the WHY. If not, crack on and see the next part of your ultimate footballers workout.




This area of strength training within a footballers workout revolves around the hamstrings , glutes & calf known as the posterior chain.


Football requires large amounts of high-speed running. In order to absorb this running it is really important we train the hamstrings to be able to tolerate it, increase our speed & reduce the likelihood of injury in our hamstrings when sprinting and competing for the ball.


The scientific football research backing this up is clear.


Contact Strength within a footballers workout


Download your FREE Ultimate footballers workout RIGHT NOW!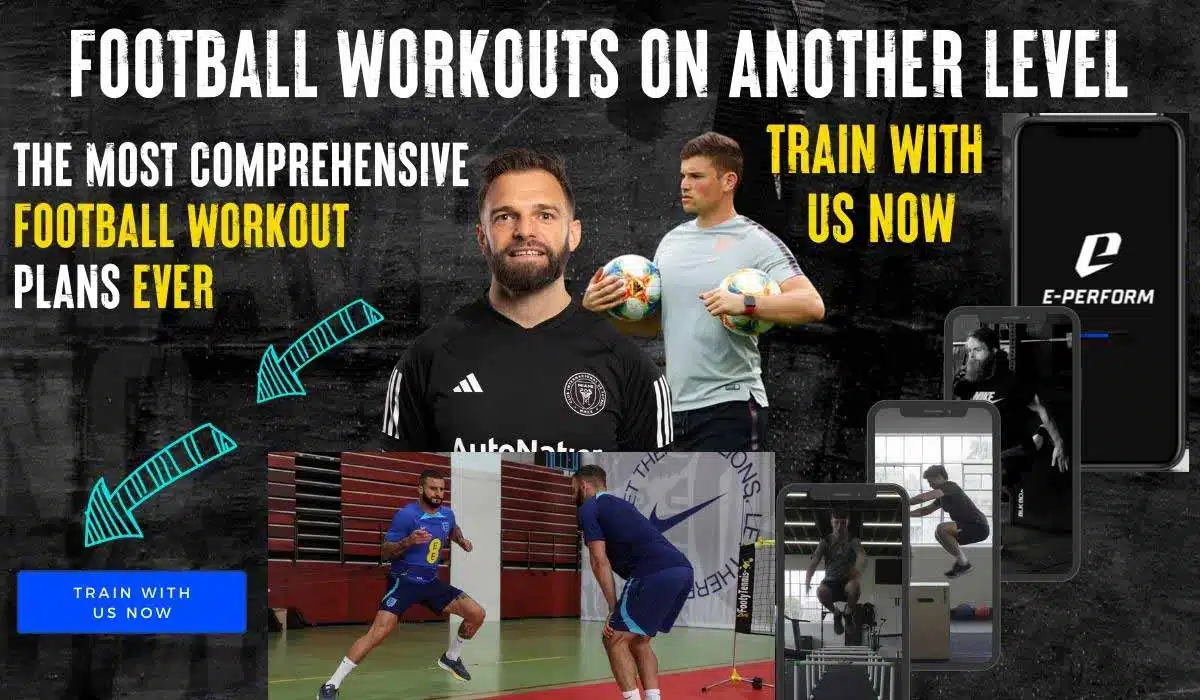 Receiving the ball under pressure, going 1v1, aerial duels or a full back flying down the line to compete at high speed to cross in the ball – Physical duels are happening constantly, all over the pitch in football.


To get the upper hand on your opponent, being strong and powerful in your upper body and core is vital to ensure you can fend, shield and come out on top in all of these situations.


Contact strength is a really valuable part of your footballers workout.


The nice thing about training your upper body is that it can be trained basically at any time of the week; on your heaviest pitch session or trained in the rest periods when paired with speed & power work for example. Keeping your legs fresh but getting a second benefit at the same time
Example contact strength and reactive power program for footballers
We have made the program below nice and easy as a workout for football players at home by not including too many exercises using much equipment.
Download your FREE Ultimate footballers workout RIGHT NOW!

Reactive Power within a footballer's workout
One of the most important areas to improve and maximise within a footballers workout is speed, power and acceleration.


These elements can be trained in a number of ways.


For this professional soccer player workout pdf we are going to focus on the off-pitch methods.


However, on pitch speed & acceleration is critical to work on if you want to maximise your potential as a footballer.


We will put together a speed e-book & video masterclass very soon so watch out!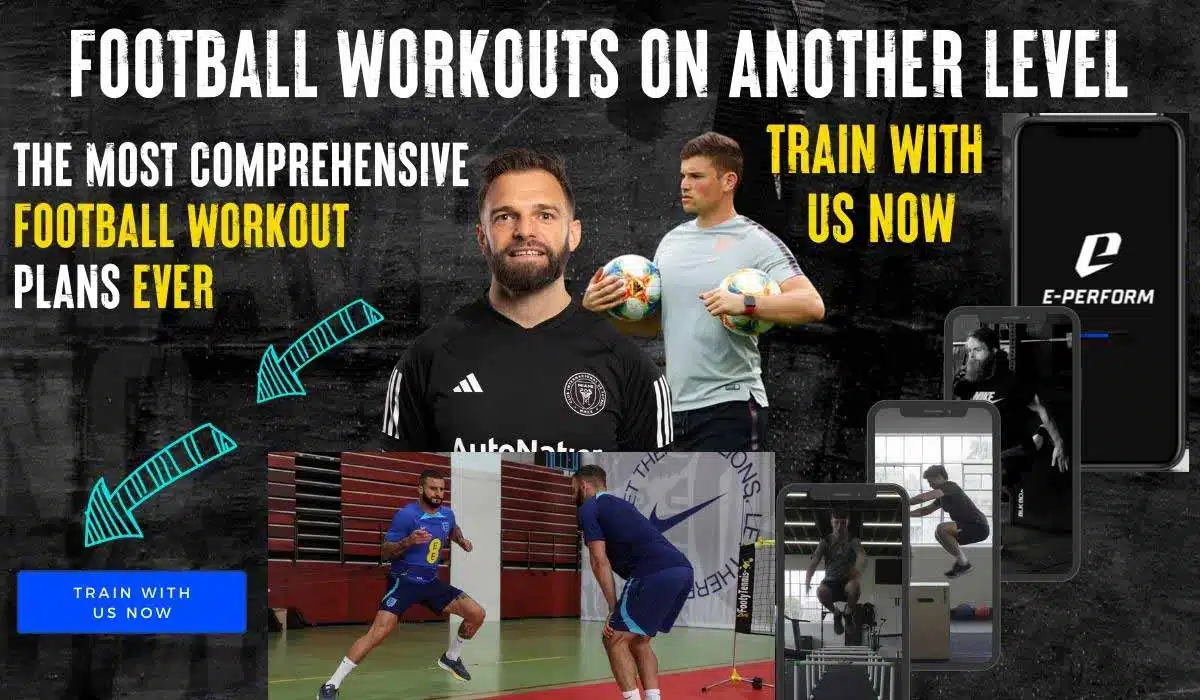 Speed & Plyometric Training within a footballers workout
Plyometrics and speed training is really effective in improving speed & power.


If you would like to complete speed and plyometric training please download the E-Perform app as it is more technically involved and not best represented within an E-Book.


We will however be writing an article on this area of the game very soon so keep up to date and sign up for our free email newsletter.


Do footballers lift weights?


As you can see from all the above exercises and how much emphasis is put on strength training for soccer. The simple answer is yes. To get our free guide where we show you exactly what exercises and how to lift weights for football click the free link below for the free football pdf.


Download your FREE Ultimate footballers workout RIGHT NOW!


A sample of a professional soccer player workout plan we work with that would perform. We've included gym-based workouts, treadmill-based workouts & pitch based workouts


We hope you love and find value in this article and in our FREE footballer gym workout pdf – if you do please share on social media and tag us when you complete your workouts, like and comment on our posts – it really helps us!


If you would like to do a little more reading and get more detail, check out our article why strength is important in football to check out the link as we have explained all in our article dedicated to the WHY.