By E-Perform | Body composition | June 7, 2022
Why is body composition important in football
Why is body composition important in football and what is the ideal football player body type?

Body composition is an important determinant to football because of its correlation to the physical qualities which are required for the game.


How much fat and muscle mass a player holds can affect their athletic ability to sprint, accelerate, de-accelerate and change direction. Too much fat mass or muscle mass can negatively affect fitness and endurance so it is critical football players have the optimum amounts of muscle and fat to perform at their best.


In this article we will cover


What is body composition
How do you measure body composition
Why is body composition important in football
Muscle mass & why is body composition important in football
Fat mass & why is body composition important in football
What is the ideal football player body type
The body composition and injury
Caution for youth and adolescent players
Take a second to answer this question: Can you think of any current professional footballer that is overweight or conversely bulky like a body builder?

Our guess is that you can't. Or at most, you thought of one or two players, such as the like of Adebayo Akinfenwa. Even then, you certainly would attribute his weight to the sheer muscle mass on his frame, rather than fat.


At the opposite end of the spectrum, it is difficult to think of players that are just skin and bone. Therefore it become easy to release it must be important, but why is body composition important in football?


In the past, you may have read posts about clubs imposing fines to players for being overweight and individual cases of this occurring where players fail to meet these weight targets.


Whilst not every club has such strict ruling, players are set body composition targets and are closely monitored by nutrition and strength and conditioning staff to achieve these goals.


In today's professional game, body composition is critical to football performance. Elite players generally have very similar body compositions – they are lean, with significant but, not huge amounts of muscle mass.


What is body composition?

Body composition is a term used to describe the physical components of the body. Body composition analysis is often used in sport to determine an athlete's body fat, bone density and muscle mass to help map out a plan to improve their performance.


Why is body composition important in football: Muscle mass

Increased muscle mass has been shown to enhance footballer's strength and power.


This can greatly impact on your ability to drive with explosiveness, win one-on-one battles and make positive plays in training and matches, which will help you progress as a player.


In a recent study on English Premier League football, it was found that players in first teams had significantly greater muscle mass than players in U21s teams and that the players in the U21s had significantly greater muscle mass than players in the U18s teams.

These results correlated with increased strength and power.



This shows that as you grow or want to progress to that next level of play, increasing your power and strength are crucial so keeping an eye on your body composition whilst progressing with resistance training and improving your nutrition to support lean muscle gain is vital to football performance.


The only caveat to increasing your muscle mass is not going too far where it can negatively affect your fitness. Muscle mass requires oxygen & if you carry too much it can cost you your running performance.


Need some help taking your body composition to the next level?

Check out our FREE 7-day meal plan

Or recent blog on the footballers diet.


Why is body composition important in football: Fat mass

Unlike increased muscle mass that can positively affects a players strength and power, excess body fat will often negatively affect a player's power-to-weight ratio.

This means that as a player puts on extra fat, there is an increased effort required to move that additional body weight.


Consider the following scenario…


You and your identical twin arrive at football training. You are matching in every possible way. You are the same height, age, sex and have equal muscle mass and reaction times.


However, your identical twin is carrying a parachute backpack, whereas you are not. You go head-to-head in a race to see who can run 100m the quickest. Who wins?


Of course, you beat your twin – they are slowed down by the parachute!


The parachute backpack in this scenario represents the fat mass when we talk about the power-to-weight ratio.


Any extra fat will simply reduce your power, slow you down and increase the energy cost of movement on the pitch.



Let's bring it back to the real world.


We've answered why is body composition important in football but now let's look into how to improve it.

As a football player, you might aim to reduce your body fat and maintain or increase your muscle mass to improve your power-to-weight ratio, leading to improved performance on the pitch.


For example, with less body fat and increased muscle mass, your acceleration may improve, and you may be more likely to beat a defender to a through ball and score. Or, as a defender, you might be more likely to beat this striker to the ball and stop a goal!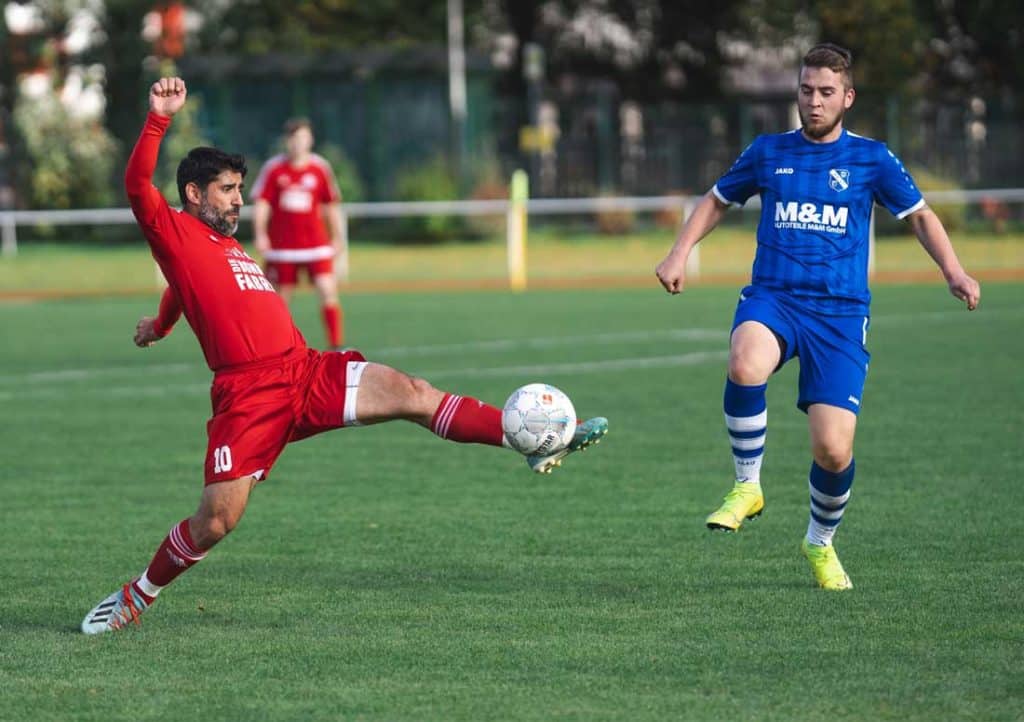 What is the ideal football player body type

It's common to see players set rigid criteria on how they should look based on the characteristics of other successful players.


Cristiano Ronaldo is a prime example of this.



Cristiano is lean, holds a lot of muscle mass, has a big tall and wide frame and arguably one of the best players in the game. So, it's no fault of a players who strives to achieve his physique.


Although this information is helpful, it doesn't consider that players' physical characteristics can vary massively. How a player looks, reflect both the genes they inherited from Mum and Dad and the results achieved by training and diet.

For this reason, it's dangerous for you to set rigid composition goals such as body fat, body weight and muscle mass goals.


Unfortunately, unless you share Cristiano Ronaldo's genes, it's unlikely that you will be able to look like him.


Instead, ask yourself the following questions, and guide your nutrition and training accordingly:

Why is body composition important in football for me and my football?
At what weight and body fat level do I seem to train best?
At what weight and body fat level do I seem to play best in matches?
Can I maintain good health at these levels?
Can I achieve and maintain this weight and body fat level without unreasonable effort and without compromising performance and other nutritional goals?


We feel it is really important to look at body composition metrics alongside more traditional performance metrics such as speed markers, fitness, strength, power assessments alongside GPS, training and match data.


All these metrics together can give you clues and may help to provide objective feedback when answering the question of why is body composition important in football to me.


Be aware that some players will perform at their best at a weight or body fat level that falls outside the typical ranges (remember Akinfenwa from earlier?).


The point here is that it isn't necessary to become the physical clone of a successful player, get shredded, or gain massive amounts of muscle for you to perform at your best on the pitch.


And this isn't to play down the benefits that losing body fat or gaining muscle mass could have on your performance.


But make sure your body fat or muscle gain goals are realistic and manageable with your training and match day nutrition requirements.


Let's touch on this in a bit more detail…


Improving your body composition for football

Set yourself realistic goals and adequate time for fat loss. Yes, you might be able to shed that 1 or 2 kg off the scale after a day of eliminating all carbs from your food plate… But this doesn't mean that you have lost 1 or 2 kg of fat.


This also isn't something you will be able to sustain and certainly shouldn't be if you want to have the energy to perform in training and on match day!


Ultimately, the goal here is to NOT TO UNDERFUEL, SO THAT YOU DON'T COMPROMISE YOUR PERFORMANCE!


When making large changes to what you eat and drink and heavily restricting your intake, you face the risk of low energy availability, in what we call Relative Energy Deficiency in Sport (RED-S) and this comes with several potential adverse health and performance effects:


At the other end of the spectrum, eating and drinking in excess could lead you to gain excess body fat, lowering your power-to-weight ratio, which has been shown to reduce acceleration and power during match play.


Whatever the goal, making radical changes to your diet is likely to do you more harm than good. So take it slow and steady and make gradual progress towards your goal.


When should you aim to optimise your body composition?

We recommend that you avoid juggling body fat changes with intense competition schedules. If you have a big game coming up it is not the time to start thinking about restricting yourself of food and energy, as this will only compromise you from playing at your best!


If losing body fat is your goal, focus on implementing nutrition strategies to achieve this during the off-season and pre-season. These periods are ideal for players to focus on body composition changes where energy requirements and competitive matches are reduced.


These periods are also a great time to think about increasing muscle mass to support performance where players may be able to focus more of their time on resistance-based training.

Body composition and injury

Nutritional considerations during injury can vary from player to player. Some players will continue training, whilst others may be bed bound for extended periods.


Changes in energy expenditure are a likely consequence of injury and a key determinant of your nutrition.


Often, an injured player may not automatically reduce their food intake to match the sudden drop in movement and exercise when they are injured. This can result in significant increases in body fat, making a return from injury more difficult.


At the other end of the spectrum, we see players dropping weight at alarming rates. Even with the best intentions, players can find it challenging to look after themselves and fuel their bodies during injury.


Limited mobility can stop you from going to the shops, buying the right food, or even cooking. This can also make returning from injury a more difficult task.


Finding the balance between these two extremes is essential during injury or periods of immobility. Where you cannot train, your goal should be maintaining your body weight and preserving muscle mass.

Check out our latest blog on supplements for the football player for some guidance on structuring your nutrition during injury.
How do you measure body composition?

There are several different ways to measure body composition, each of which has their pros and cons.


In most clubs, you will see skinfolds being used to measure body fat, as they are simple to conduct and a cheap method of assessment.

In the big clubs, a lot of money is spent to give more accurate analyses of players' body compositions, using Dual-energy X-ray absorptiometry (DXA). This is a fancy bit of kit that scans your body to measure muscle mass and bone density in addition to body fat.

DXA scans are often more reliable than skinfolds since skinfolds are reliant on the hands of the practitioner rather than an intelligent, reliable computer system!


Coaches and nutritionists can use body composition data to develop specific training and dietary interventions to help players gain lean muscle or lose body fat.


Caution for youth and adolescent players

Many youth and adolescent players feel pressurised to lose body fat to improve their performance on the pitch due to social media, pressure from teammates, or even following the regards of a well-meaning coach.


For youth and adolescent players, it is not only important to fuel with adequate food and drink to perform, but also to support maturation and growth. This is one factor why the energy requirements of elite adolescent players are often higher than those of elite adult players!


In a recent study, an increase in fat-free mass and resting metabolic rate of ~400 kcal/day was recorded between ages 12 and 16, thus highlighting the requirement to adjust daily energy intake to support growth and maturation.


For youth and adolescent players at a healthy weight or body fat percentage, manipulating body composition to lose body fat could hinder performance and growth if not carefully monitored.


Check out this podcast by Aston Villa's nutritionist Dr Marcus Hannon for a detailed overview of how the body composition of youth and adolescent players is managed in an elite academy football setting.


The Summary: Why is body composition important in football
Body composition is a term used to describe the physical components of the body. In most sports, including football, muscle mass and body fat are measured as the main determinants of body composition.
Why is body composition important in football performance. Increased muscle mass and reduced body fat will positively affect a player's power-to-weight ratio and subsequent performance on the pitch (Eg. increased acceleration speed).
Players are often pressured to reach a specific body composition based on the characteristics of other successful players. However, players should focus on performance as there are risks of radically manipulating their diets to achieve a specific body composition outcome.
Players should avoid making body composition changes by under fuelling (or over fuelling) to avoid compromising their football performance.
Players should focus on body composition manipulation during the off-season and pre-season, where energy requirements and competitive matches are reduced.
Injured athletes should focus on allowing their bodies to repair, adapting their nutrition to maintain body composition during periods of immobility or where they cannot train.
Youth players should not be encouraged to lose body fat at a healthy weight or body fat. Nutrition should be implemented to support growth, maturation, and increased energy demands.


We hope you have enjoyed the article on Why is body composition important in football and we hope we have given you all the information you need to start thinking about how your body composition could be improved to improve your football.

If you have enjoyed the article help your team mates and us by sharing it with them & like and comment!

Here are some useful links 🙂

Download your FREE 7-day meal plan to maximise your football performance RIGHT NOW!

Footballers diet Article

Lacking inspiration with what to cook? We've got you covered with our FREE 7 best football recipes. Pair this with the 7-day meal plan to start planning to make a proper impact and improve your nutrition.